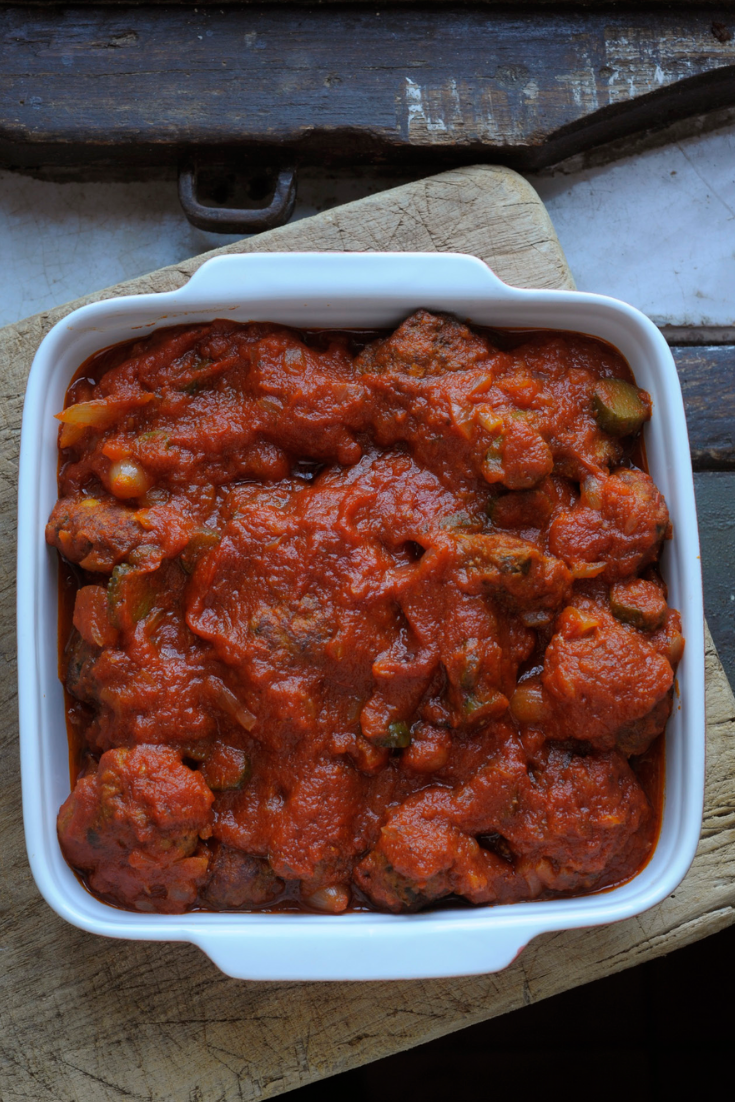 Sweet & Sour Sicilian Meatballs
Preparation time: 20 minutes | Cooking time: 1 hour | Serves 6–8
Ingredients
500 g lean veal, minced (ground) twice
150–200 g (1–2 cups) grated pecorino cheese
150 g (2½ cups) fresh breadcrumbs
1 garlic clove, finely chopped
1 tablespoon chopped flat-leaf parsley
2–3 eggs, lightly beaten
vegetable oil, for deep-frying
salt
For the sauce:
1 onion, chopped
150 g pickled vegetable garnish
80 g (½ cup) sugar
100 ml (½ cup) red wine vinegar
800 g tomato sauce
Method
Mix together the veal, pecorino, breadcrumbs, garlic, parsley, eggs and a pinch of salt in a bowl, adding a little water if necessary to make a firm, even mixture.
Take a small amount of the mixture at a time and shape into a ball between the palms of your hands, then gently flatten.
Pour oil into a frying pan or skillet to a depth of about 10 cm/4 inches and heat.
Add the meatballs, in batches if necessary, and cook, turning once, for 10–15 minutes until golden brown on both sides.
Remove with a fish slice (spatula) and drain on paper towels.
To make the sauce
Transfer 4–5 tablespoons of the oil used to cook the meatballs to a pan and heat.
Add the onion and cook over medium-low heat, stirring occasionally, for 8–10 minutes, until golden brown.
Add the pickled vegetables and cook for a few minute mores. Mix the sugar with 100 ml (1/2 cup) hot water and stir into the pan with the vinegar and tomato sauce.
Taste and add more sugar or more vinegar if necessary.
Simmer for a few minutes, then add the meatballs and cook for another 10 minutes.
Transfer to a serving dish and serve at room temperature.
Source: 'Sicily' available in store at the Triggerfish Cookshop
About the Book: 'Sicily' is a culinary journey through an island that is unique among the many regions of Italy. Sicily's position away from the mainland, its blend of Arabic and Mediterranean influences and its sun-drenched climate have led to the evolution of one of the country's most distinct and exciting cuisines.