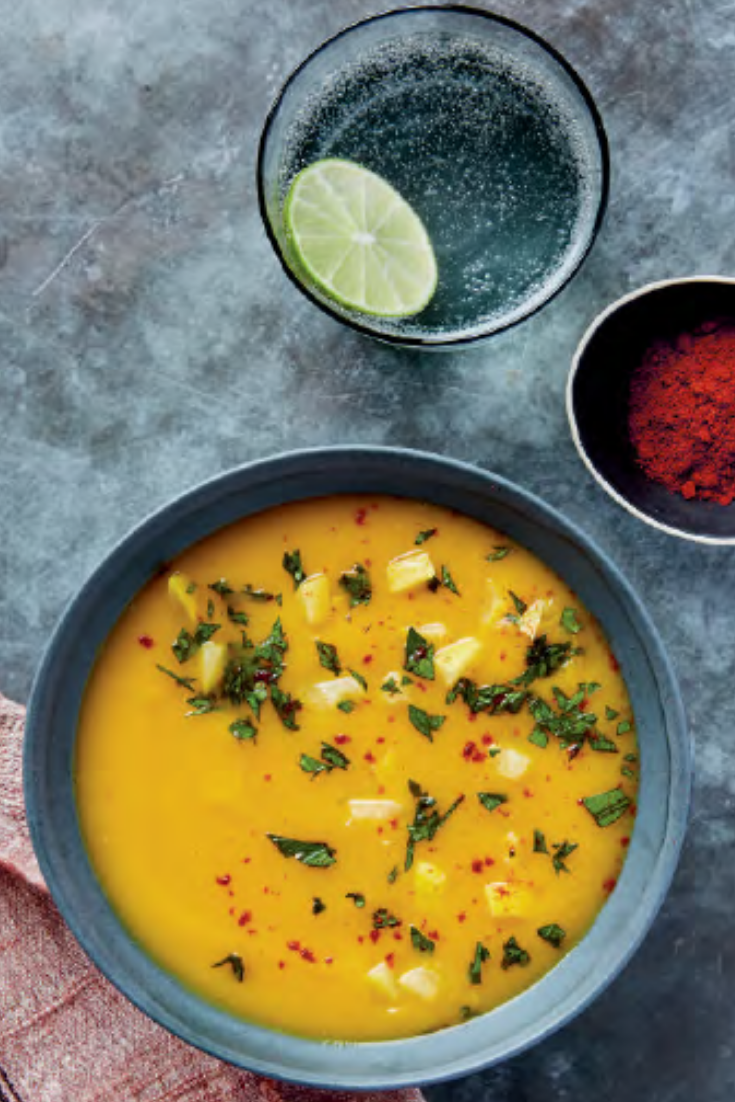 Turkish Roasted Pumpkin and Red Lentil Soup
Preparation Time: 35 minutes | Cooking Time: 1 hour | Serves: 4
Ingredients
3 cups (710 ml) vegetable stock (broth)
1 cup (240 g) red lentils, soaked in water overnight and drained
2 teaspoons ground turmeric
1¼ teaspoons ground cumin
1 tablespoon grated fresh ginger
1 teaspoon freshly ground black pepper, plus more as needed
1 teaspoon salt, plus more as needed
6 tablespoons olive oil
1 kg Hokkaido pumpkin, peeled and diced
1 onion, quartered
1 head of garlic, unpeeled
1 lemon, cut into 6 wedges
3 sprigs sage, halved
¼ cup (6 g) finely chopped parsley
1 teaspoon sweet paprika, to garnish
Method
Preheat the oven to 440°F/230°C/Gas Mark 7½.
Line a rimmed baking sheet with parchment paper.
Pour the stock into a large saucepan, add the lentils, and bring to a boil, then reduce the heat to medium and simmer for 30 minutes, until the lentils are tender.
Combine the turmeric, 1 teaspoon of the cumin, the ginger, 1 teaspoon freshly ground black pepper, salt, and 2 tablespoons of the olive oil in a large mixing bowl.
Add the pumpkin and onion chunks and mix well to coat the vegetables in the spices.
Transfer the pumpkin and onion to the prepared baking sheet and tuck the head of garlic and the lemon wedges in between the pumpkin and onion pieces.
Arrange the sage around the pumpkin cubes. Bake for about 15 minutes, then remove the garlic and set aside.
Return the other vegetables to the oven and bake for another 15 minutes.
Discard the sage and peel the baked garlic.
Scrape the pulp from the lemon wedges, removing the seeds.Reserve the peel.
Using a food processor or high-speed blender, blend the garlic, lemon pulp, pumpkin, and onion in batches until smooth.
Season to taste with salt and freshly ground black pepper.
Finely chop the reserved roasted lemon peel.
Heat the remaining olive oil in a small saucepan over medium heat. Stir in the parsley, lemon peel, paprika, and the remaining cumin. As the spices release their aroma, remove the pan from the heat.
Ladle the soup into bowls, garnish with the spiced parsley and lemon peel, and serve.
Source: 'Vegan: The Cookbook' available in store at the Triggerfish Cookshop
About the book: Vegan: The Cookbook by Jean-Christian Jury includes nearly 500 vegetable-driven recipes, inspired by cuisines around the world, that bring vegan home cooking to new levels of deliciousness. Featuring dishes from countries ranging from Albania to Zambia, it showcases the culinary diversity of vegan cuisine, highlighting regional fruits and vegetables, traditional cooking techniques, and universally delectable flavours.