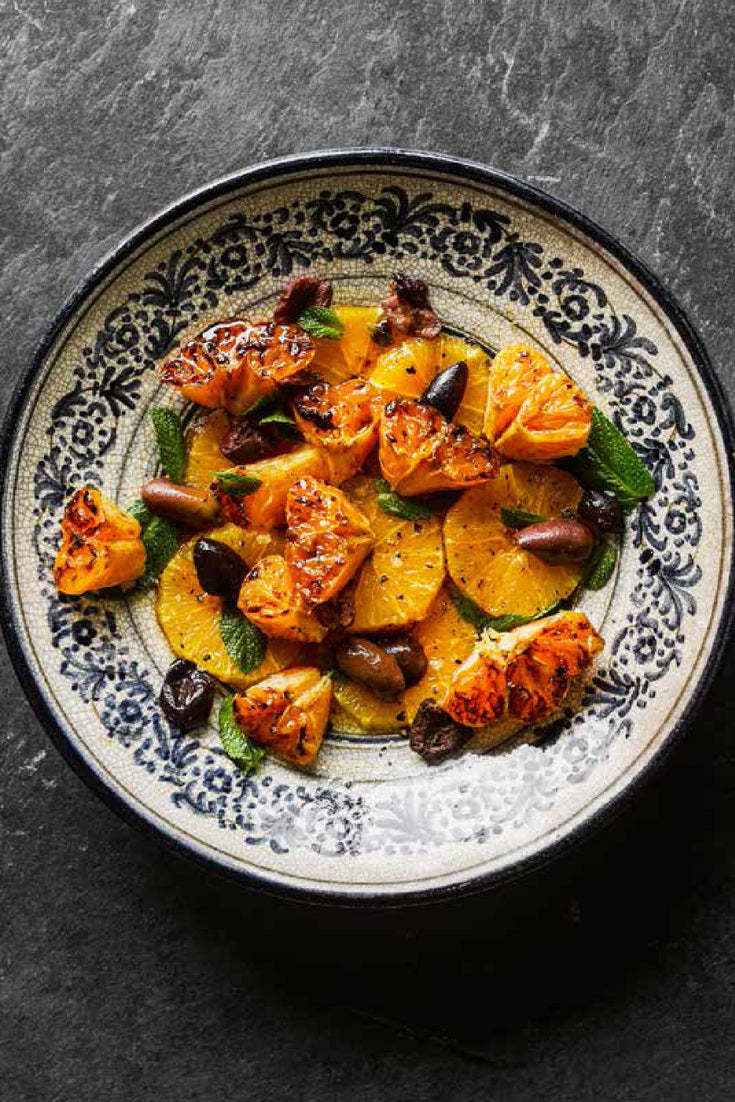 Clementine Salad with Black Olives
Preparation time: 30 minutes | Cooking time: 3 hours | Serves 6
Ingredients:
3 tablespoons walnut oil
4 seedless clementines, halved around the middle
2 large oranges
20 pitted Kalamata olives, coarsely chopped
handful of mint, leaves only
flaky sea salt and pepper
Method:
Heat 2 tablespoons of walnut oil in a small skillet or frying pan over medium heat.
When the oil is hot, place the clementine halves cutside down in the pan and cook for around 4 minutes, until the fruit is caramelized and sticky.
Meanwhile, cut the bottom off the oranges so that they sit flat on the board and use a sharp knife to cut the skin and membrane away, so that no white pith is visible, only the bright orange of the juicy fruit inside.
Slice the oranges into the thinnest rounds you can, reserving any orange juice you can save (including any juicy bits from the skins you've cut away).
Arrange the slices on a plate, picking out any visible pips as you go.
When the clementines are cooked, remove to a board to cool.
Pour the reserved orange juice into the same pan with the remaining tablespoon of walnut oil and warm over low heat.
When the clementines are cool enough to handle, peel the skins away then tear into irregular pieces and scatter over the top of the orange slices, along with the chopped olives and mint leaves.
Drizzle the warmed juice and walnut oil over the top, then season with salt and pepper.
Let the salad sit for 15 minutes for the flavors to mingle before serving
Source: 'The Mezze Cookbook' by the fabulous Salma Hage from Lebanon. 
About the Book: This book is a vibrant collection of exciting, exotic, and sharing-plate recipes from across the Middle East