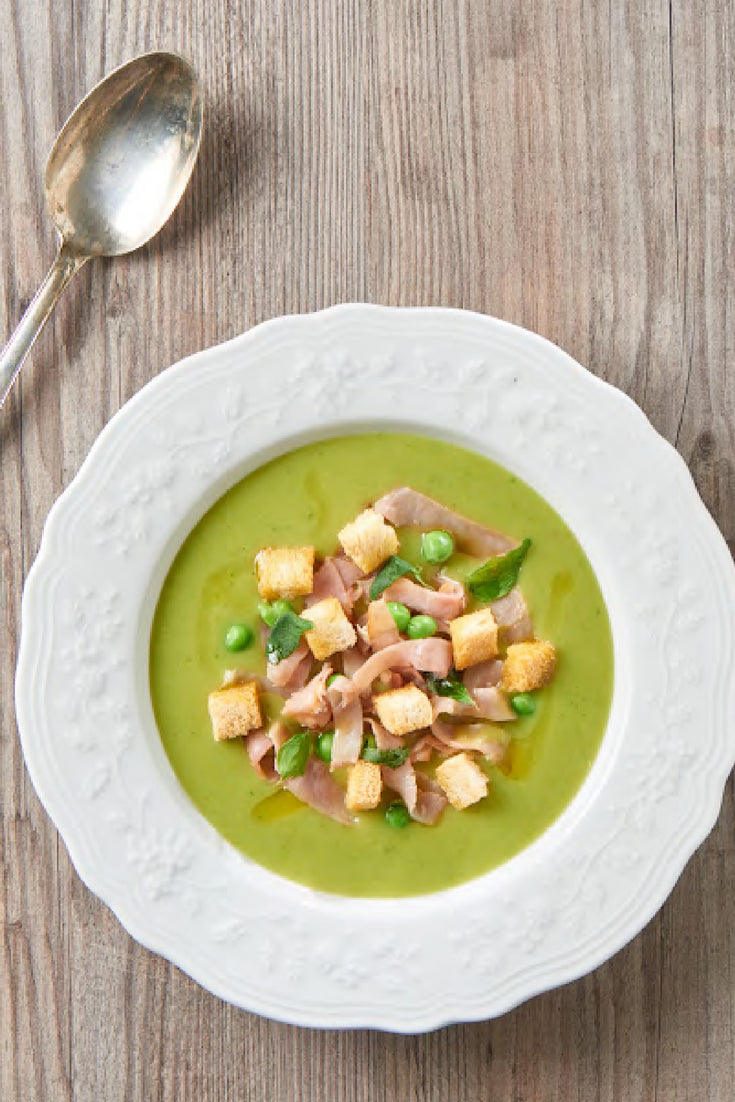 Fresh Pea Soup with Smoked Ham
Serves: 4
Ingredients:
Extra virgin olive oil
2 potatoes, peeled and diced
1 shallot, chopped
500 ml hot vegetable broth (stock)
500 g shelled fresh peas
1 small bunch basil, chopped
120 g smoked ham, cut into small strips
Piece of butter
Salt and Pepper
A few mint leaves, to garnish (optional)
Toasted bread, to serve (optional)
Method:
Heat a drizzle of oil in a large pan, add the potatoes and shallot, and cook over low heat for 5 minutes, or until soft but not browned.
Pour over the broth (stock) and cook over medium heat for 10 minutes, then add the peas and basil, adjust the seasoning if necessary, and cook for 5 minutes more.
Use an immersion blender to blend the soup until smooth and homogenous.
Melt the butter in a skillet (frying pan), add the ham, and gently fry over medium heat for 3–4 minutes until crisp. Drain on kitchen paper.
Garnish the soup with the crisp ham and a few mint leaves, and serve with slices of toasted bread.
Source: 'Eataly: Contemporary Italian Cooking'
About the Book: This beautiful cookbook, created in collaboration with Eataly, one of the greatest Italian food brands, features 300 landmark recipes highlighting the best of contemporary Italian home cooking.