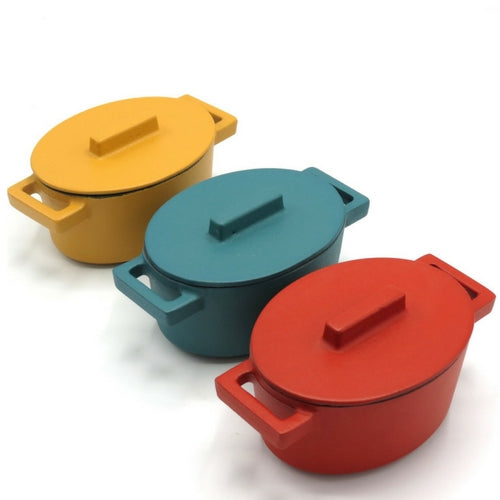 Terra Cotto Cast Iron Oval Casseroles
These mini cast iron casseroles are our newest and coolest cookware items!
Italian brand Sambonet are known for their contemporary and design focused cookware and these beautifully put together, solid casseroles are already proving popular at The Triggerfish Cookshop. They come in three vibrant colours: red paprika, blue anise and yellow vanilla. They measure up at a charming 13x10cm. 
They go on all hobs (including induction) and in the oven, but look best of all when they are served at the table. 
Ideal for making a serving for one. A fish pie, a side serving of dauphinois potatoes, a pasta bake, dessert, starter or main. The list goes on and on. The great thing about them is that they lend themselves to meals that can be made ahead of time and then placed in the oven just as your guests arrive. Handy cooking. 
They look great served on a white plate with a serviette to centre them or on a wooden board with a simple side salad, bringing fun primary colours to your table. Scatter them around the table with sides for that funky table look.  
You can buy these casseroles here: Red Paprika, Yellow Vanilla or Blue Anise