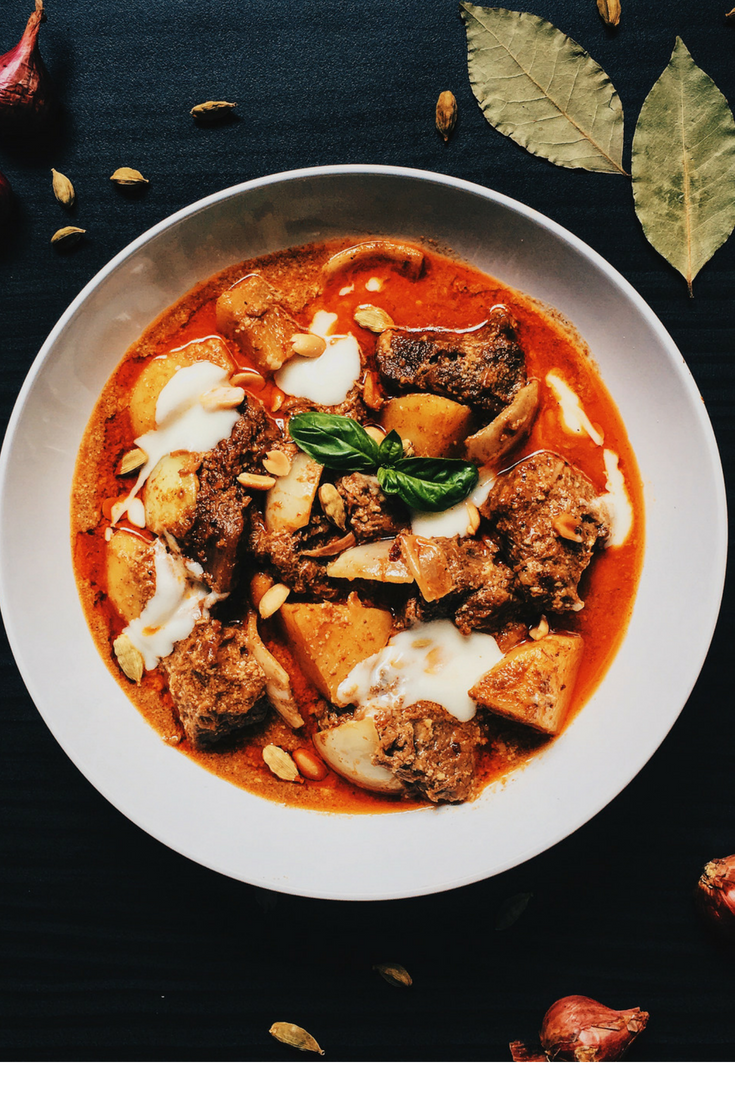 Slow cooked Beef Curry
Preparation time: 30 minutes | Cooking time: 3 hours | Serves 6
Ingredients:
1 kg of prime stewing beef (preferably shoulder)
3 - 4 Bay Leaves
1 - 2 sprigs of curry leaves
4 cloves of garlic (crushed)
1 tbsp of grated ginger
1 tbsp of cumin.
1 tbsp of coriander seeds
1 tsp of mustard seeds
1 tsp of pepper corns
1 tsp of turmeric
2 tomatoes - chopped
1 - 2 chillies - finely chopped
2 medium onions - finely chopped
200 gms of yoghurt
1 or 2 large rooster potatoes - chopped into chunks.
Sunflower oil - for frying
Salt to taste. 
For garnish: Peanuts, 1 tsp of garam masala and 1 tbsp of yoghurt.
Method:
Dry roast the cumin, coriander seeds, mustard seeds, pepper corns and curry leaves for 2 - 3 minutes on a hot pan. Grind the spices along with the turmeric, garlic and ginger into a fine paste with a pestle and mortar. Add a few drops of oil to the paste to make it smoother.
Mix 1/2 the paste with the yoghurt and add to the beef chunks. After mixing thoroughly, allow to marinate over night or for a minimum of four hours. 
Chop the potatoes into chunks. Add salt, par boil and keep aside. 
In a dutch oven, fry the chopped onions  in a few tbsp of oil until golden brown. Add the bay leaves, chopped tomato and the remainder of the spice paste and fry until the tomatoes start of dissolve. 
Add in the marinating beef mixture, making sure to press down all the beef chunks until they are perfectly submerged.
Add salt to taste and a large cup of water. 
Put the lid back on the dutch oven and slow cook for 1.5 - 2 hours over a low flame, until the meat starts to get tender. 
Add the chopped chillies and add more salt if required. 
Add the potatoes, about ten minutes before the meat is fully done.  
Allow the pot to rest for about fifteen minutes before serving. 
Garnish with peanuts, garam masala and yoghurt before serving. Best eaten with steamed rice or naan. 
Source: The Triggerfish Cookshop