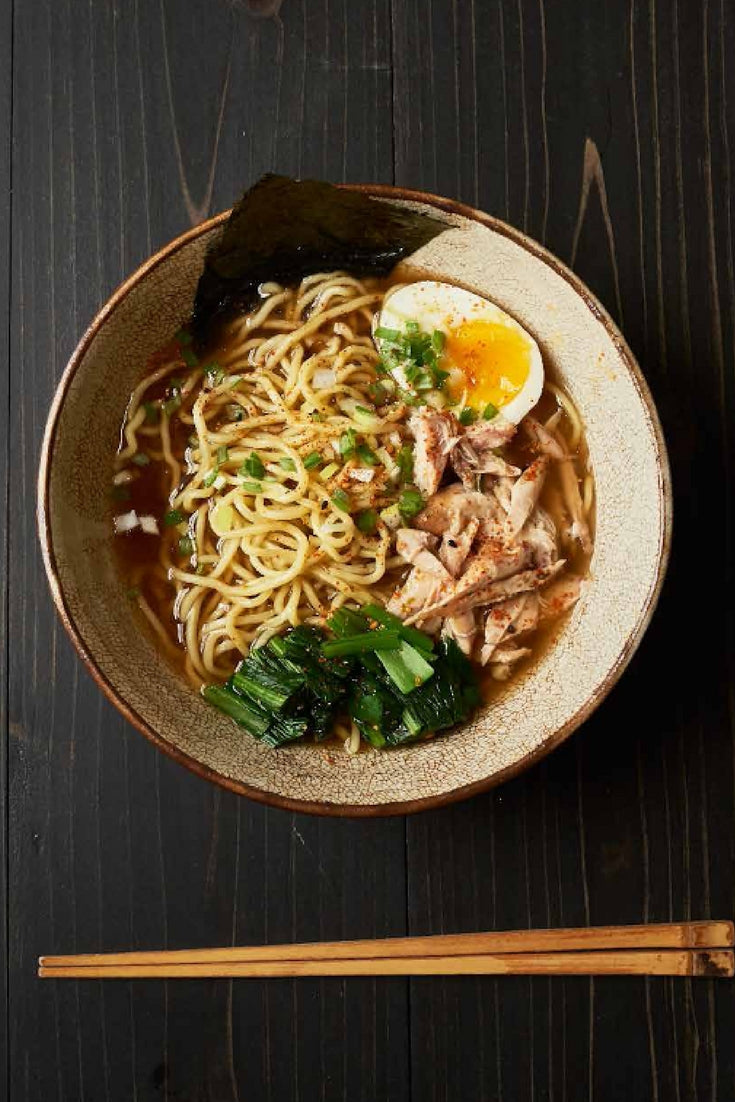 Ramen
Preparation time: 2 hours | Cooking time: 2.5 hours | Serves: 6
Ingredients
For the broth:
4 bone-in, skin-on chicken thighs (675 g total)
2 small carrots, cut into 3 cm pieces
200 g small scallions (spring onions), cut into 3 cm pieces
1 2 cm piece fresh ginger, thinly sliced crosswise
1 teaspoon flaky sea salt
2 tablespoons gold sesame oil
For the noodles:
2 cups (300 g) all-purpose flour
2 tablespoons gold sesame oil
2 eggs, at room temperature
2 egg yolks, at room temperature
For the salt flavorings (choose one):
Brown rice miso
Soy sauce
Fine sea salt
For the toppings:
200 g komatsuna (Japanese mustard greens), bok choy, or spinach, blanched, squeezed, and chopped
3 tablespoons finely chopped scallions (spring onions)
3 eggs, at room temperature, boiled for 8 minutes, refreshed, peeled, and halved lengthwise
1 sheet nori, cut into sixths
Rayu (chili oil), optional
Yuzu kosho (chili paste), optional
Seven-spice powder (shichimi togarashi), optional
Method
Make the broth:
Position a rack in the center of the oven and preheat to 450°F (230°C/Gas Mark 8).
In a large bowl, toss the chicken, carrots,scallions, and ginger with the salt.
Rub with the sesame oil and dump onto a rimmed baking sheet.
Roast for 35 minutes until nicely browned.
Scrape the roasted chicken and vegetables into a large heavy pot and add 4 litres cold water.
Bring almost to a boil over high heat, reduce to a simmer, and cook, covered, for 1 hour.
Scoop out the chicken thighs and shred the meat off the bones into a medium bowl.
Wet the chicken meat with a small scoop of broth.
Return the bones to the pot and continue simmering the broth, uncovered, for 30 minutes.
Strain into a clean medium pot and discard the bones and vegetables.
Meanwhile, make the noodles:
Place the flour in a large bowl and drizzle in the sesame oil.
Mix with your fingers until pebbly.
Make a well and break in the whole eggs and yolks. Mix with your fingers until the eggs and flour are incorporated, but the dough is still a bit crumbly.
Turn out onto a work surface and knead until smooth and pliable, about 5minutes.
Let the dough rest for at least 30 minutes.
Roll the dough out using a Japanese noodle machine (seimenki) or Italian pasta machine.
Then cut the dough into thin noodles 3 mm wide. Cut those noodles into 22 cm lengths with a pizza cutter.
Sprinkle the noodles generously with flour and toss the flour into the noodles, to help prevent sticking, but keep the noodles aligned.
Fill a large pot three-quarters full of water and bring to a boil over high heat.
Bring the broth to a simmer over medium-high heat and adjust to a bare simmer.
Prepare 6 large bowls (donburi).
Measure in to each bowl salt flavoring of choice: 2 tablespoons miso or 4 teaspoons soy sauce, or ¾ teaspoon salt.
Whisk 4 tablespoons broth into each bowl to emulsify the flavoring.
Add the noodles to the boiling water and cook for 2 minutes.
To serve:
While the noodles are cooking,add about 1½ cups (350 ml) broth into each bowl and whisk to combine with the flavoring liquid.
Drain the noodles and divide the noodles among the bowls.
Working quickly (so the broth does not cool), keeping each ingredient in its own area, add 2 heaping tablespoons chicken meat, 2 heaping tablespoons greens, ½ tablespoon scallions, an egg half, and a small piece of nori.
You can add some more spice with rayu (for soy sauce ramen), yuzu kosho (for salt ramen) or shichimi togarashi (for miso ramen).
Source: 'Japan: The Cookbook' by Nancy  Singleton Hachisu
About the book: 'Japan: The Cookbook' has more than 400 sumptuous recipes by acclaimed food writer Nancy Singleton Hachisu. The dishes - soups, noodles, rices, pickles, one-pots, sweets, and vegetables - are simple and elegant.