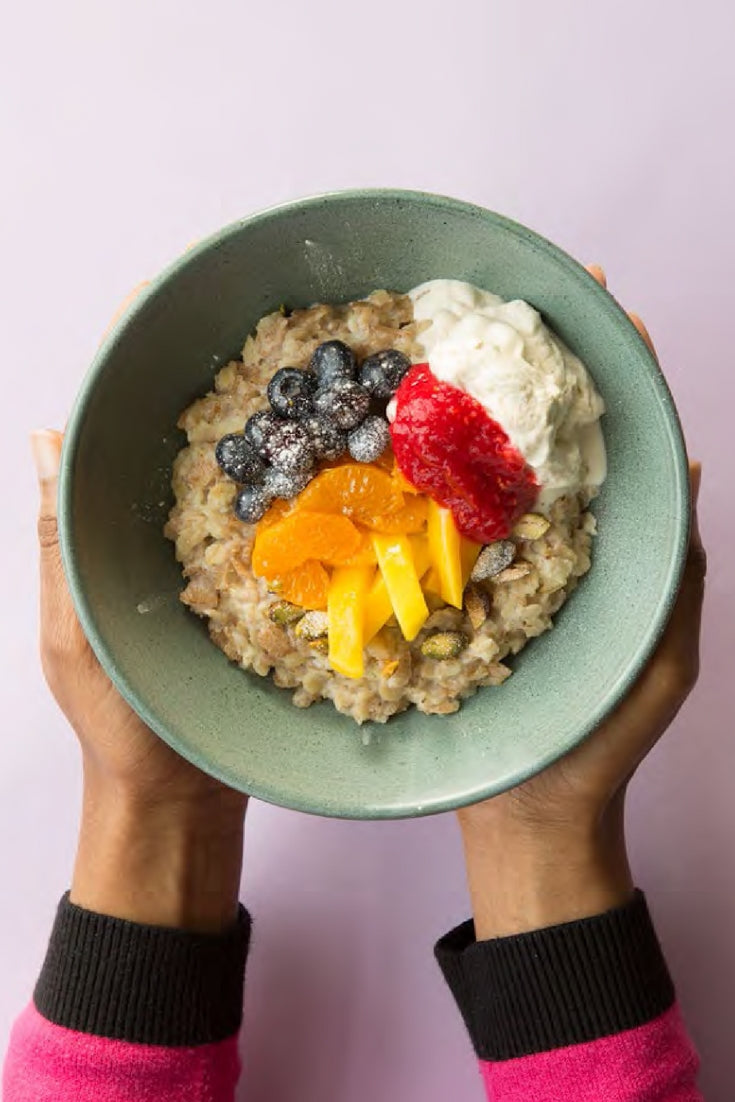 Sundae Porridge
Preparation time: 10 mins | Cook time: 5 mins | Serves: 2
Ingredients
1/2 cup (2 oz/60 g) raspberries
2 tablespoons whipping cream
¼ teaspoon vanilla bean paste
½ cup (50 g) oats
½ cup (50 g) wheat flakes
1½ cups (350 ml) almond milk
3 or 4 clementine segments, peeled
1 tablespoon blueberries
1 tablespoon mango, thinly sliced
1 tablespoon pistachios
½ teaspoon icing sugar
Method
Put the raspberries in a mini blender or food processor and pulse until you get a smooth coulis. Set aside.
Put the whipping cream in a small bowl and whisk with an electric mixer or whisk until it forms soft peaks.
Add the vanilla bean paste and whisk until combined.
Put the oats and wheat flakes in a medium pan, add the almond milk and 1½ cups (12 fl oz/350 ml) of water and place over high heat. Bring to a boil.
Once the liquid has begun to reduce, stir quickly to prevent the porridge from sticking.
Cook until the porridge reaches the desired consistency, then divide between 2 bowls.
Top the porridge with the clementine segments, blueberries, mango, pistachios, and vanilla cream.
Drizzle over the raspberry coulis and sprinkle with icing sugar to serve.
Source: 'The Grain Bowl' by Nik Williamson
About the book: 'The Grain Bowl' is a collection of 90 hearty recipes for breakfast, lunch, and dinner, made with a variety of grains, seeds, rice, and superfoods. Its author - Nik Williamson - is the founder and director of Bow Street Kitchen and the Porridge Cafe in London.