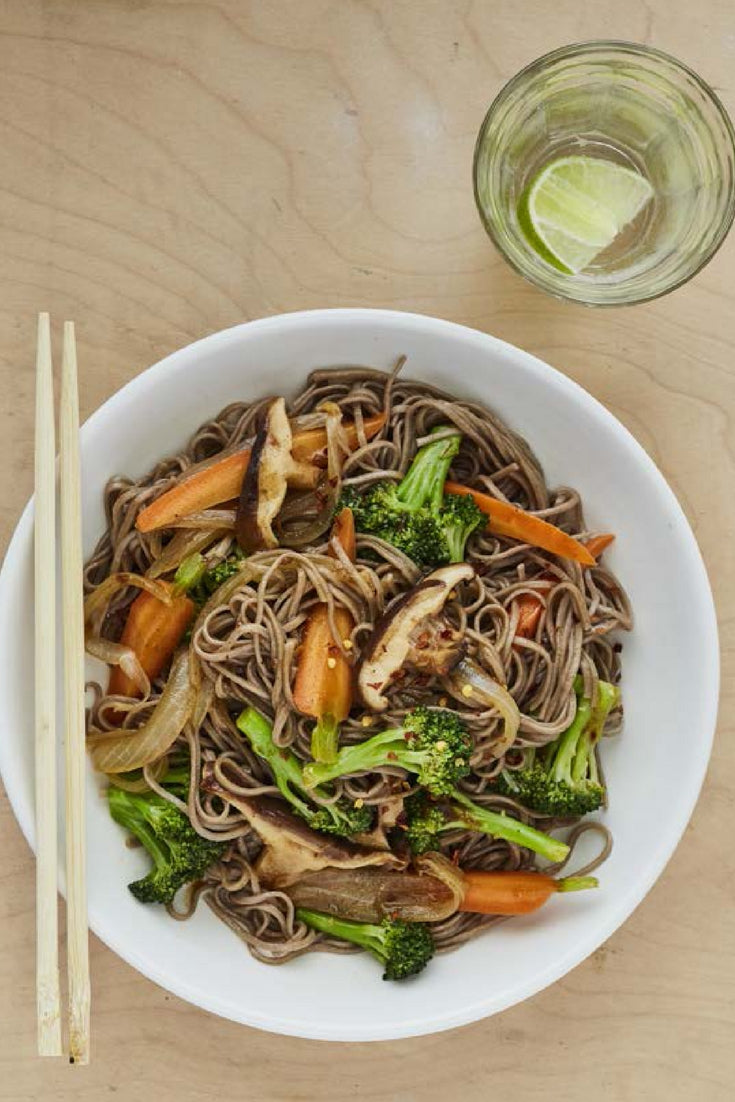 Delicious stir-fried Malaysian Soba!
Serves: 4
Ingredients:
For the soba:
1 pound - 500 g soba noodles (can be found in any Asian supermarket)
1 tablespoon vegetable oil
For the sauce:
½ cup - 120 ml orange juice
1 tablespoon corn starch 
1 teaspoon Chinese five-spice powder (can be found in any Asian supermarket)
1 teaspoon crushed red pepper flakes 
2 tablespoons soy sauce
2 teaspoons agave syrup
For the stir-fry:
1 ½ cup - 350 g mushrooms, stem removed, chopped 
1 cup - 240 g fresh baby carrots, sliced
1 onion, peeled, sliced 
2 garlic cloves, peeled, minced
3 cups - 700 g broccoli, florets only
2 tablespoons olive oil
Method:
Cook the soba noodles according to the directions on the packet.
Drain, add 1 tablespoon vegetable oil, stir well and set aside with a lid to keep warm.
Combine all sauce Ingredients in a large bowl and whisk until well blended. Set aside.
Heat the 2 tablespoons olive oil over medium heat, add mushrooms, carrots, onion, and garlic. Cook and stir for 5 minutes.
Add the broccoli florets, cover with a lid, and cook 4 minutes until vegetable are crisp tender. Stir occasionally.
Add the sauce, cook and stir 3 minutes or until thickened.
Pour over the soba noodles and serve immediately.
Source: 'Vegan: The Cookbook' coming soon to the Triggerfish Cookshop
About the book: Vegan: The Cookbook by Jean-Christian Jury includes nearly 500 vegetable-driven recipes, inspired by cuisines around the world, that bring vegan home cooking to new levels of deliciousness. Featuring dishes from countries ranging from Albania to Zambia, it showcases the culinary diversity of vegan cuisine, highlighting regional fruits and vegetables, traditional cooking techniques, and universally delectable flavours.