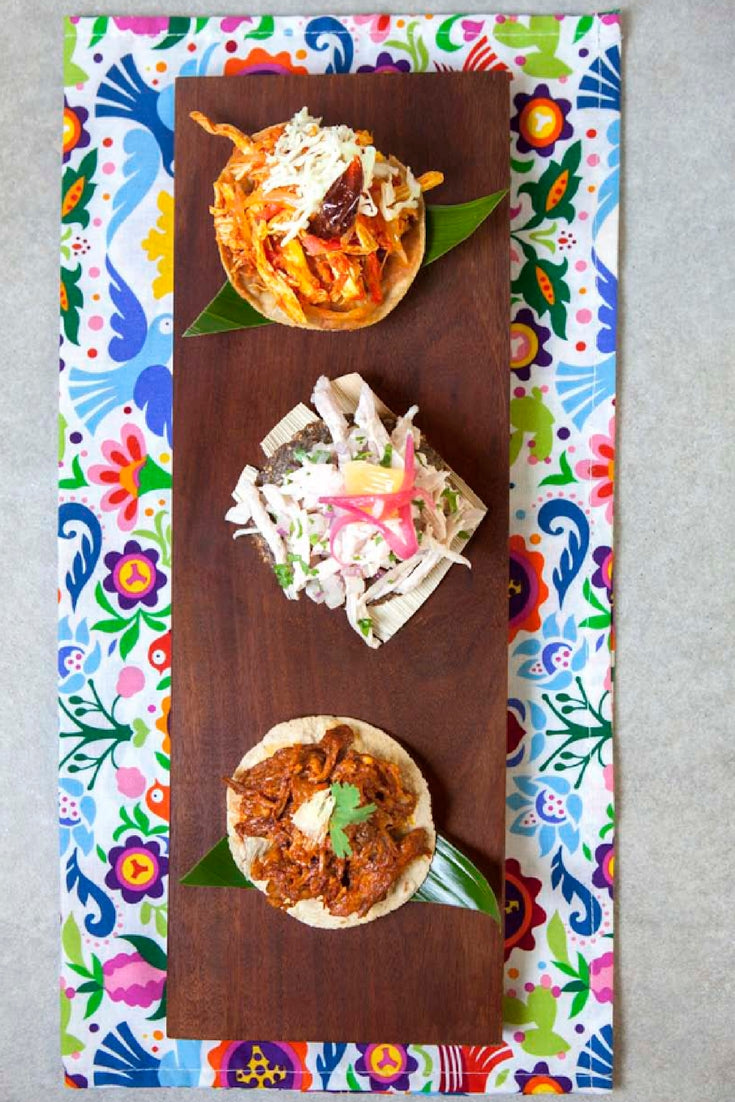 Chicken Tostadas
Preparation: 10 mins | Cooking Time: 1.5hrs | Serves: 6
Ingredients:
½ onion
2 cloves garlic, crushed
1.2-kg chicken
1 bay leaf
2 cloves
1 sprig thyme + 1 sprig marjoram salt
For the sauce:
3 large tomatoes, roasted, peeled, and ground
2 dried chipotles, dry-fried, soaked, and drained
4 tablespoons olive oil
1 onion, thinly sliced
3 cloves garlic, finely chopped
2 x 200-g cans of chipotles with their juice, de-seeded and sliced
½ cup (80 g) fried and diced chorizo
3 tablespoons brown sugar
2 bay leaves
2 thyme sprigs
1 teaspoon dried oregano, crushed
1 teaspoon ground black pepper
salt
To serve:
sour cream or crème fraîche
¼ head iceberg letttuce, cut into fine strips
grated cheddar cheese (optional)
8 tortillas, toasted
Method:
In a large pot, pour enough water to just cover the chicken, then partially cover with a lid.
Meanwhile, stick the onion half with the cloves. When the water is hot, add the chicken, onion half, garlic, bay leaf, thyme, and marjoram, and season with salt.
Reduce the heat and simmer for 1½ hours or until the chicken is tender.
Remove the pan from the heat and lift out the chicken. Reserve the cooking liquid. Let cool, then shred the meat very finely.
Add the tomatoes and dried chipotles into a food processor or blender and process until smooth, then set aside.
Heat the olive oil in a medium pan. Add the onion and cook over low heat, stirring occasionally, for 8–10 minutes until lightly browned.
Add the garlic, tomatoes, sliced chipotles with their juice, chorizo, sugar, bay leaves, thyme, and oregano. Season with salt and cook, stirring occasionally, for 30 minutes or until the sauce has thickened.
Add the chicken and 1 cup (250 ml) of the reserved cooking liquid and cook for another 10 minutes.
Divide the tostadas among 4 serving plates and drizzled with sour cream or crème fraiche.
Add 2–3 tablespoons of the chicken mixture to each, garnish with lettuce and cheese, if using, and serve immediately.
Source: 'Mexico: The Cookbook' available in-store at the Triggerfish Cookshop.
About the book: 'Mexico: The Cookbook' by Margaret Carillo Arronte is the definitive bible of home-cooking from Mexico. The book features more than 700 delicious and authentic recipes that can be easily recreated at home. From tamales, fajitas, and moles to cactus salad, blue crab soup, and melon seed juice, the recipes are a celebration of the fresh flavors and ingredients from a country whose cuisine is revered around the world.