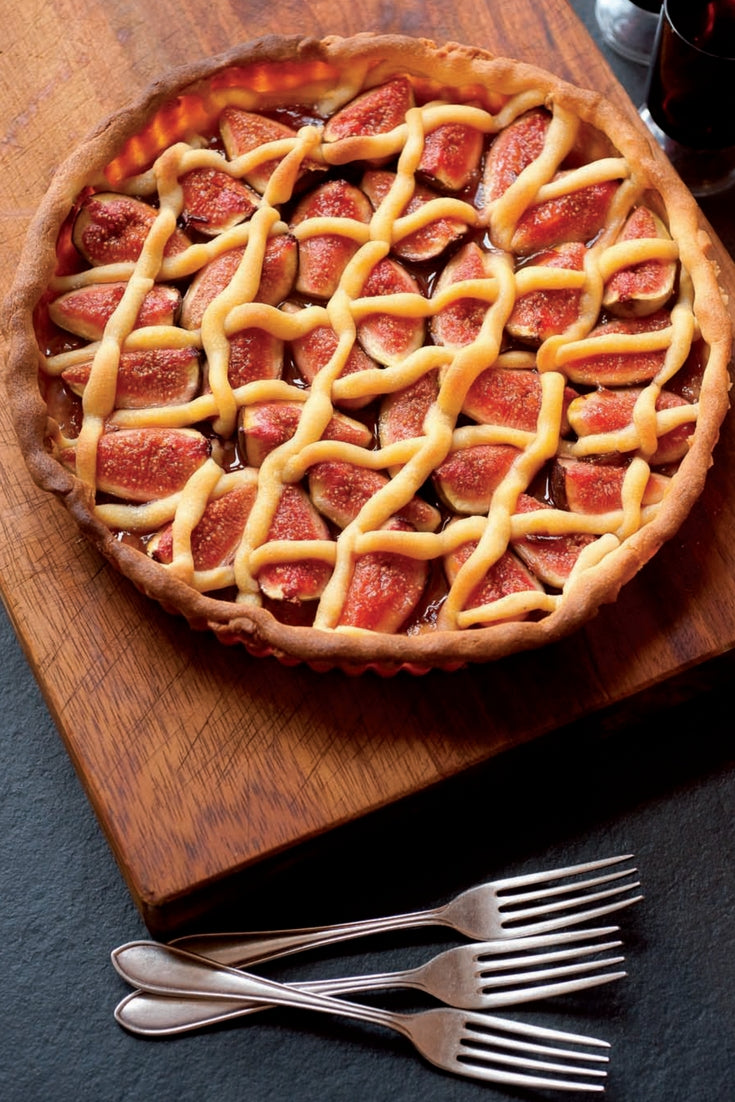 Summer Fig Tart
Preparation: 15 mins  |  Cooking: 45 mins  |  Serves 6
Ingredients:
14 ounces ripe green figs
1/4 cup superfine sugar
11/2 cups rum
sweet butter, for greasing
11 ounces Pie Crust dough
all-purpose flour, for dusting
3 tablespoons plum jam
Method: 
Cut the figs into fourths, without peeling, and place in a bowl.
Sprinkle with the sugar and half the rum and set aside for about 1 hour.
Preheat the oven to 350°F.
Grease an 8-inch tart pan with butter.
Roll out two-thirds of the dough into a circle on a lightly floured counter and place
in the prepared tart pan.
Prick the base with a fork, cover with aluminum foil and fill with baking beans.
Bake for about 20 minutes, then remove from the oven but do not switch it off.
Remove the foil and beans and let cool.
Drain the figs and arrange them on the base of the tart shell.
Combine the jam and remaining rum in a small pan and heat gently, stirring frequently, until smooth.
Gently pour the mixture over the figs. Shape the remaining dough into very thin rolls and arrange in a lattice over the tart and as piping around the edge, pressing gently to seal.
Bake for about 10 minutes, then remove from the oven and let cool.
Source: 'The Silver Spoon' available in-store at the Triggerfish Cookshop. 
About the book: The Silver Spoon was first conceived and published by Domus, Italy's famed design and architectural magazine in 1950. It has sold 1 million copies in eight editions. With over 2000 recipes, it is regarded as the most successful Italian cookbook of all time and a very popular wedding gift in Italy.