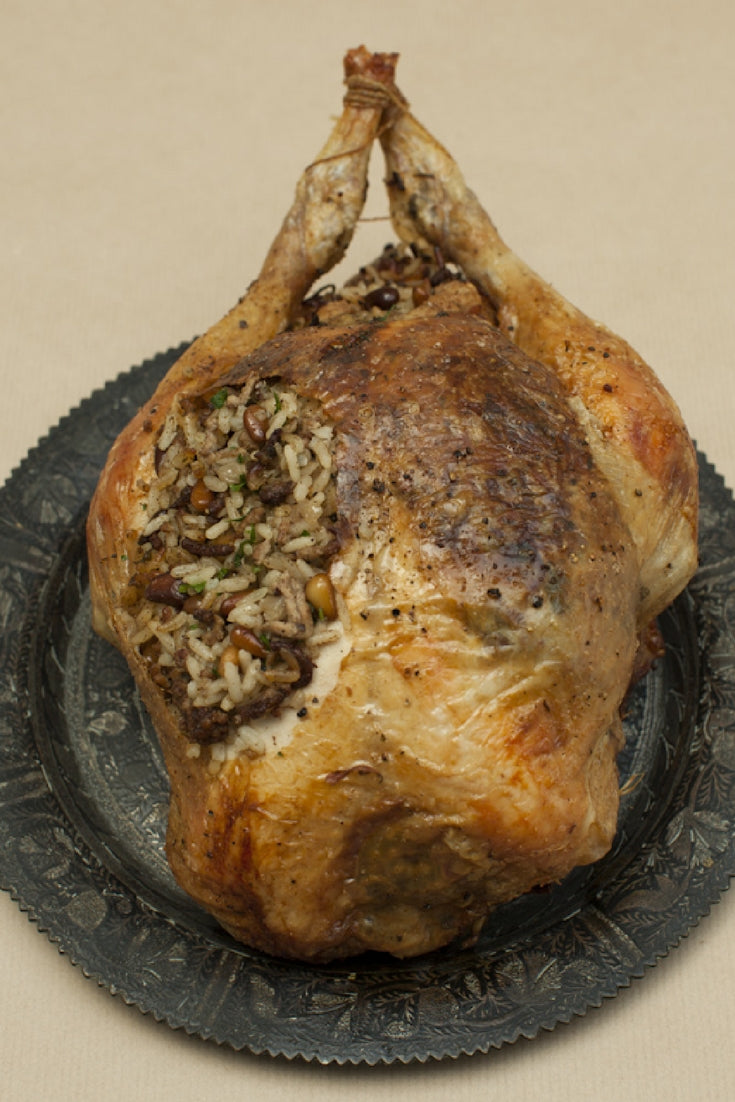 Chicken Hashweh
Preparation time: 25 minutes | Cooking time: 2 hours 15 minutes | Serves 6
Ingredients:
1.5 kg free-range chicken
250 g ground (minced) lamb
1 small onion, finely chopped
1 teaspoon seven spice seasoning
1 teaspoon salt
½ teaspoon black pepper
1 cup (175 g) easy cook rice, washed in boiling water and left to soak for 10 minutes
2 teaspoons ground cumin
½ teaspoon ground cinnamon
1 cup (80 g) pine nuts, toasted
1 bunch parsley, chopped
Method:
Wash the chicken, inside and out and carefully remove, discard the chicken's wings using a sharp knife.
Use your fingers to carefully separate the skin from the breast of the chicken to create a pocket.
Fry the ground (minced) lamb in a hot pan until browned and then add the onions and seven spice seasoning.
Cook over a medium heat for 5 minutes and then season with salt and pepper.
Drain the rice and stir into the lamb, then add the cumin and cinnamon.
Cook for a further 5 minutes then add 400 ml of boiling water to completely cover the mixture.
Bring to the boil then reduce the heat and simmer, covered, for 20 minutes, stirring occasionally.After this time the liquid should be completely absorbed.
Add the toasted pine nuts and a handful of chopped parsley to the pan and stir to combine. Set the mixture aside until completely cool.
Preheat the oven to 400º f/200ºc/Gas Mark 6.
Once the rice and lamb mixture has cooled, use it to stuff the cavity, neck and in between the skin and breast of the chicken, taking care not to rip the skin.
Rub the chicken with oil, season, and then place in a baking pan and cover tightly with foil.
Cook in the preheated oven for 1½ hours, then remove the foil and cook for a further 30 minutes until the skin is golden brown and crisp.
Leave to rest for 10 minutes then serve.
Source: 'The Lebanese Kitchen' by Salma Hage, available at The Triggerfish Cookshop
About the book:  Lebanon blends textures, colours and flavours from both the eastern Mediterranean and the Middle East. The Lebanese Kitchen brings together more than 500 home recipes, ranging from light, tempting mezzes to rich and hearty main courses from the kitchen of author Salma Hage.