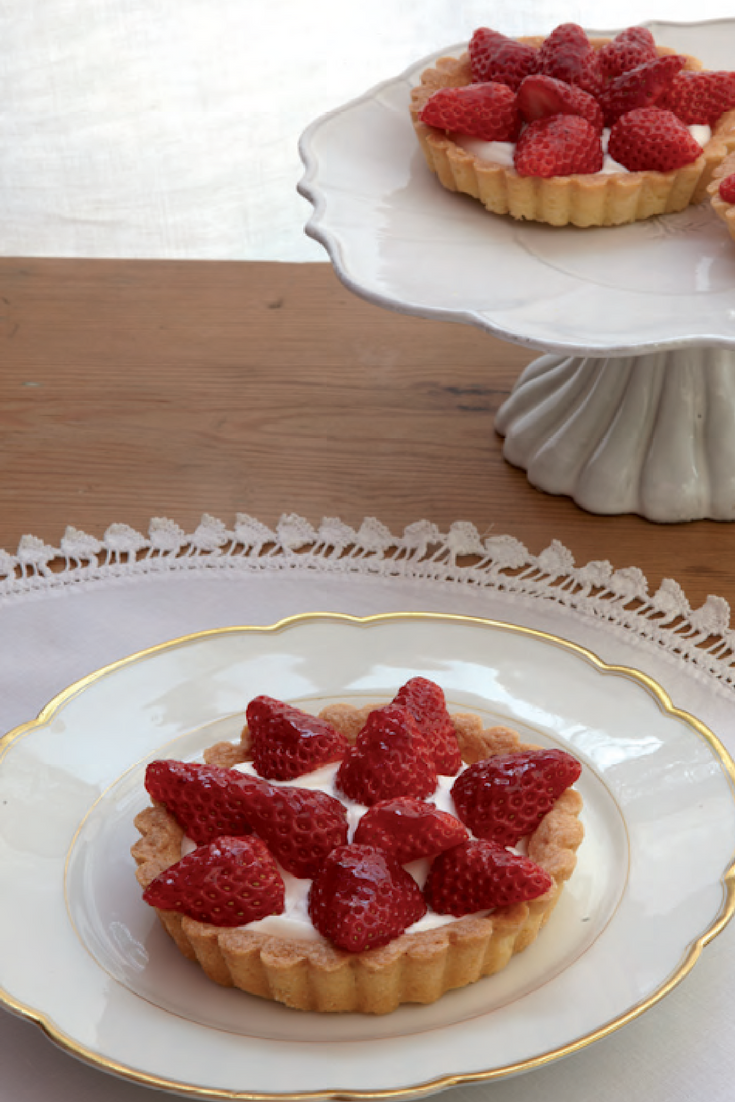 Tartelettes Aux Fraises (Strawberry Tartlets)
Preparation time: 15 minutes | Cooking time: 15 minutes | Serves 6
Ingredients:
1 quantity Basic Pie Dough
1 quantity Whipped Cream
500 g small strawberries, hulled or halve large ones
120 g redcurrant jelly
Method:
Preheat an oven to 200°C/400°F/Gas Mark 6.
Line individual 10-cm (4-inch) tartlet moulds with the basic pie dough.
Cover the dough with greaseproof paper or foil then put baking beans inside.
Blind bake the tartlet for 15 minutes or until golden.
Discard the paper and the baking beans. Allow the cases to cool.
Fill the tartlets with whipped cream.
Carefully arrange the strawberries on top of the cream.
To make a redcurrant syrup, pour the redcurrant jelly and 1 tablespoon water into a small saucepan and heat for 2-3 minutes, or until syrupy.
Using a pastry brush, use the syrup to glaze the fruits.
Source: 'The Art of French Baking' by  Ginette Mathiot , available at The Triggerfish Cookshop
About the book:  When it comes to desserts, no-one does it better than the French. Ginetter Mathiot is the ultimate authority on French cooking. The Art of French Baking is an inspiring collection of recipes from éclairs to soufflés and macaroons to madeleines, celebrating the sweet tastes of France.