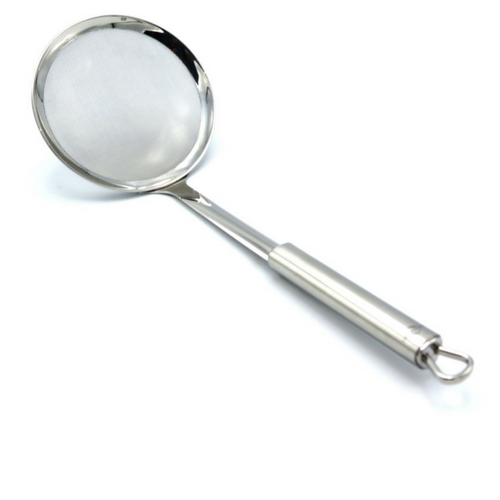 Kuchenprofi Wire Mesh Skimmer
KuchenProfi Cooks Tools are known for their ergonomic design and functionality. Stainless steel, heavy set and with a triangular handle design for grip, the Kuchenprofi Wire Mesh Skimmer is as beautiful as it is functional. 
The mesh skimmer -used for extracting ravioli, vegetables, wantons from boiling water or oil - is the most durable and versatile of them all. It's poised at an 80 degree angle for ease of skimming in your casserole, sauce or stock pot. It's dishwasher safe and because it's made of high grade stainless steel, will stand the test of time.
It looks the part hanging from a cooks tool rail with a handy hook on top of the handle to hang it from on a S-hook. Mix and match with other cooks tools, building your collection over time so that you can have every tool for every job within's arm's reach!