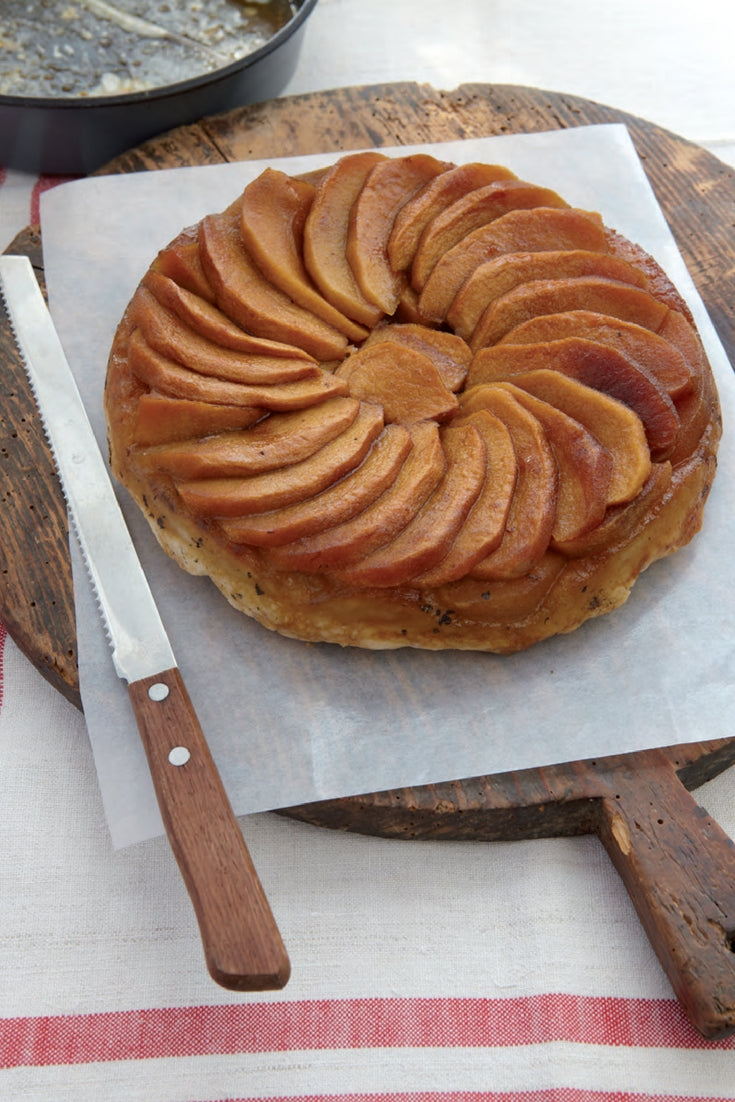 Tarte Tatin
Preparation time: 25 minutes | Cooking time: 30 minutes | Serves 6
Ingredients:
1 quantity Shortcrust Pastry
125 g caster sugar
For the filling:
Method:
Preheat the oven to 200°C/400°F/Gas Mark 6.
Make the shortcrust pastry, cover and allow it to rest.
Take a 20-cm (8-inch) pie dish with a solid base, preferably made of solid metal, and place in it 100 g of the sugar and 1–2 tablespoons water.
Place the dish over a medium heat and make a fairly dark caramel.
Ensure the base of the dish is coated in caramel and allow to cool.
For the filling, peel, core and thinly slice the apples.
Arrange close together in a ring on the caramel in the dish and sprinkle with the remaining sugar. Dot with the butter.
Roll out the pastry to a thickness of 5 mm (¼ inch) and place over the apples, tucking the pastry into the tin all round so that the fruit is completely covered.
Bake for 30 minutes, then turn out onto a serving dish so that the caramelized apples are on top.
Source: 'The Art of French Baking' by Ginette Mathiot, available at the Triggerfish Cookshop
About the book: When it comes to desserts, no-one does it better than the French! Beautiful eclairs, souffles, macaroons and madeleines are made easy with 'The Art of French Baking' written by the renowned Ginette Mathiot, who has taught three generations of French home cooks how to cook.