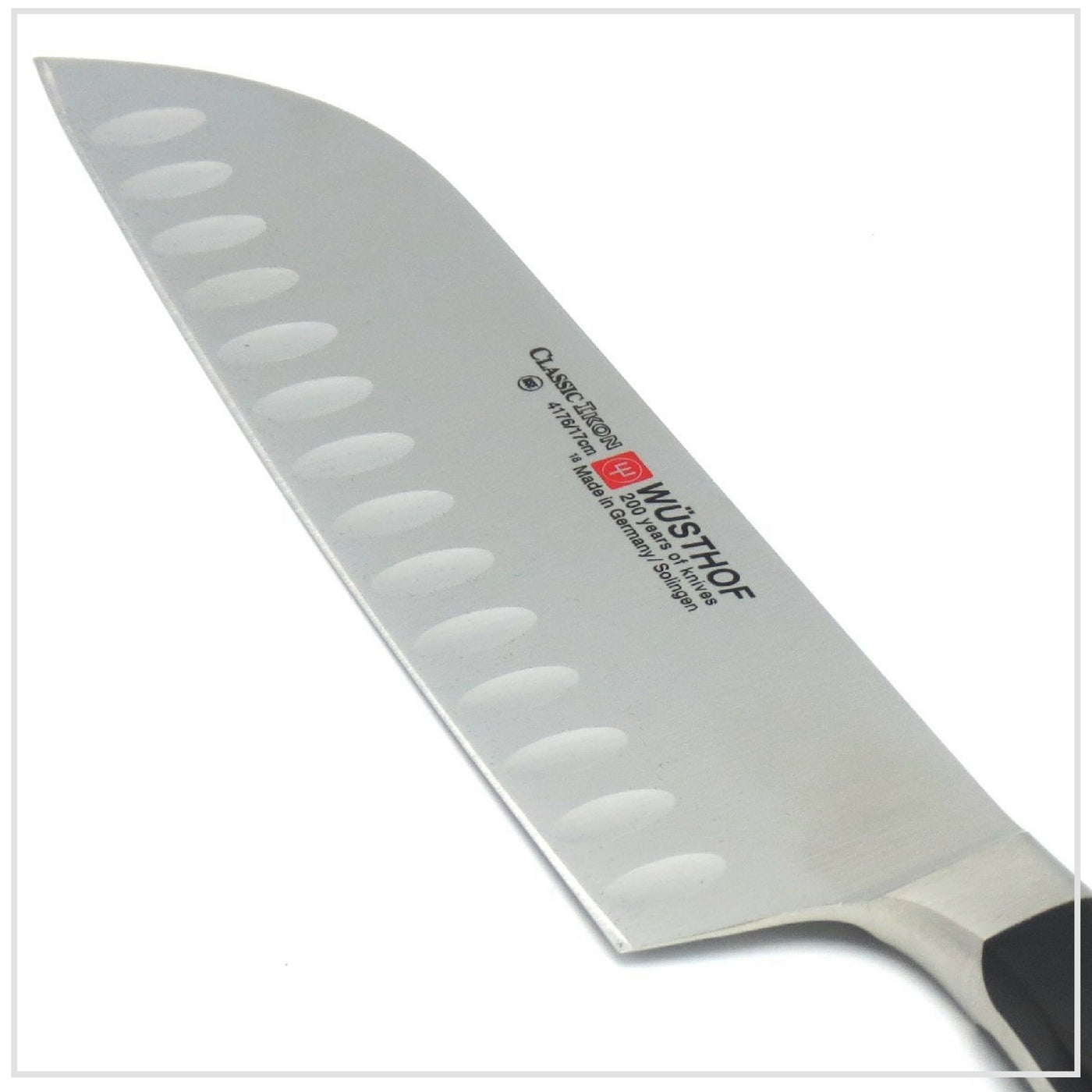 WÜSTHOF CLASSIC IKON Scalloped Santoku
WÜSTHOF'S Classic Ikon Range is that bit heavier in the hand than the Classic Range. Whilst the blade is the very same, the difference is in the handle. The elegant shape of the handle is smoother in its texture and is designed for a comfortable grip. The overall style of the knife is more modern.
This Japanese influenced Scalloped Santoku Knife is designed with a thinner blade than a Chef's Knife. It has a 10 degree cutting edge and gradually curves up at the very end providing a straighter edge. The hollow or scalloped edge is crafted with evenly spaced vertical indentations, which create small air pockets between the blade and the food. These small air pockets gently push food off the blade and reduce friction and drag. This knife allows cooks to effortlessly prep a wide array of fresh produce, including starchy vegetables like potatoes, which tend to stick to a knife's blade.
Cleaning and Care Tips:
We recommend hand washing your knife with warm water and a sponge after use, drying and storing away. Do not put in the dishwasher. 
Store your knives protected in a drawer, in a knife block or ideally on a magnetic knife rack on the wall. 
Use a wooden, synthetic or plastic board to chop on. Do not chop on steel, stone, marble or glass as this will dull your blade. 
After cutting through acidic foods like lemons, limes or tomatoes, wash your knife immediately and dry before storing. The acids will eat away at the steel and produce tiny spots which are very difficult to remove.
Sharpen your knives using a diamond sharpener and honing steel or preferably, a whetstone. 
 Dimensions: 18cm