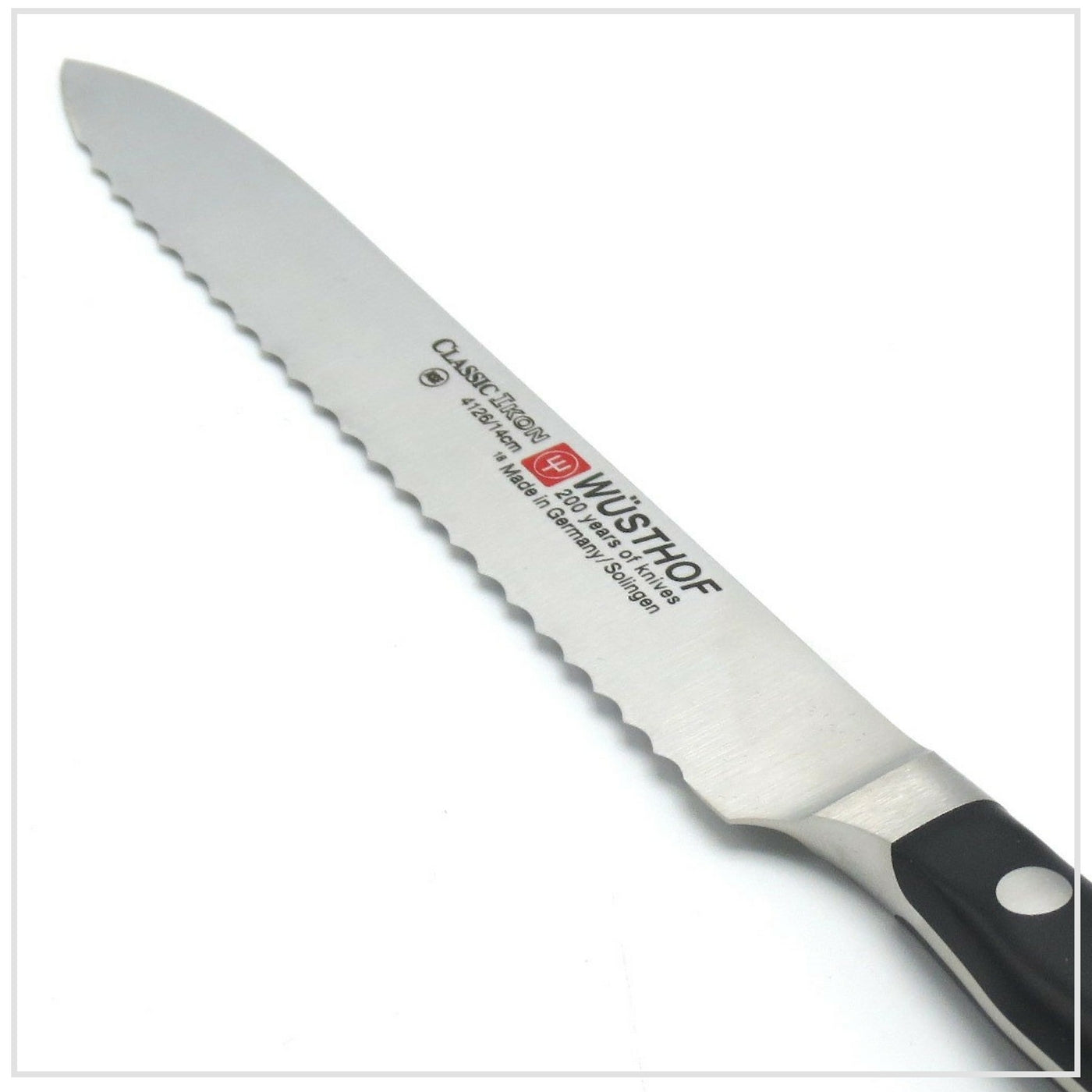 WÜSTHOF CLASSIC IKON Serrated Utility Knife
WÜSTHOF'S Classic Ikon Range is that bit heavier in the hand than the Classic Range. Whilst the blade is the very same, the difference is in the handle. The elegant shape of the handle is smoother in its texture and is designed for a comfortable grip. The overall style of the knife is more modern.
This Serrated Utility Knife is smaller than a Cook's Knife but larger than a paring knife, making it the perfect knife for a number of tasks. A Utility Knife is much like a versatile paring knife and is perfect for mincing shallots, onions and herbs as well as cutting vegetables or cutting small meats. The added serrated edge has saw-like teeth that enable the blade to slice cleanly through food with delicate textures such as bread or soft vegetables and fruit. This is one knife that you will keep reaching for.
Cleaning and Care Tips:
We recommend hand washing your knife with warm water and a sponge after use, drying and storing away. Do not put in the dishwasher. 
Store your knives protected in a drawer, in a knife block or ideally on a magnetic knife rack on the wall. 
Use a wooden, synthetic or plastic board to chop on. Do not chop on steel, stone, marble or glass as this will dull your blade. 
After cutting through acidic foods like lemons, limes or tomatoes, wash your knife immediately and dry before storing. The acids will eat away at the steel and produce tiny spots which are very difficult to remove.
Sharpen your knives using a diamond sharpener and honing steel or preferably, a whetstone. 
Dimensions: 12cm