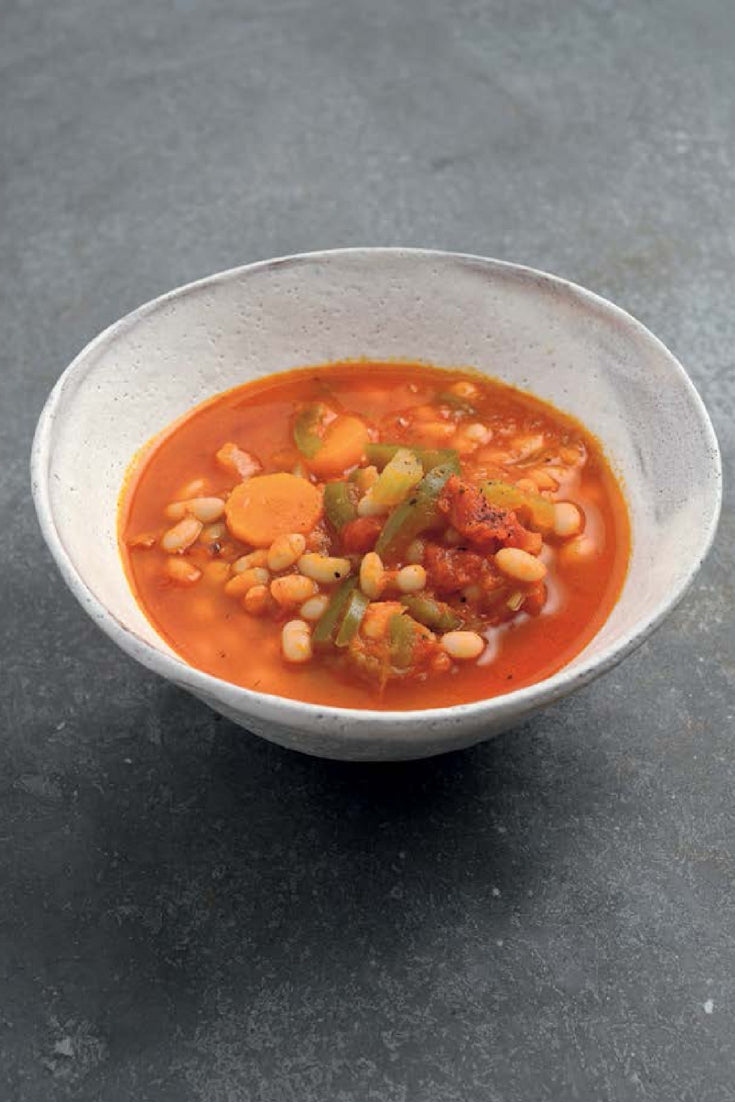 Lentil Soup
Preparation time 15 minutes  |  Cooking time 30–60 minutes  |  Serves 4 
Ingredients:
2¼ cups (500 g/1 lb 2 oz) green lentils
1 lb 2 oz (500 g) canned chopped tomatoes or fresh ripe tomatoes, peeled and chopped
1 small onion, grated
2 garlic cloves, sliced
½ teaspoon sugar
2 bay leaves ◦ salt and pepper
1 tablespoon red wine vinegar, plus extra to garnish
1 teaspoon dried oregano, plus extra to garnish
olives and pickled vegetables, to serve
Method:
Rinse the lentils, then put them into a pan, pour in water to cover, and bring to a boil.
Cook for 5 minutes, then drain, discarding the cooking liquid. This prevents the lentils from darkening during cooking.
Process the tomatoes to a purée in a food processor.
Put the onion and garlic in a large pan, add 6 tablespoons water, and cook until the water has evaporated and the onion and garlic have softened.
Pour in 4 cups (1 litre/1¾ pints) water, add the tomatoes, sugar and bay leaves, season with salt and pepper and bring to a boil.
Add the lentils, reduce the heat, cover, and simmer for 30–60 minutes, or until the lentils are tender.
Stir in the vinegar and oregano and cook for 5 minutes more.
Remove the pan from the heat and remove and discard the bay leaves.
Sprinkle the soup with freshly ground pepper and extra oregano and vinegar, if you like.
Serve the soup hot or at room temperature, accompanied by olives and pickled vegetables.
Source: 'Greece: The Cookbook' by Vefa Alexiadou, available in-store at the Triggerfish Cookshop. 
About the book: Greece: The Cookbook is the first truly comprehensive bible of Greek food in English written by Vefa Alexiadou, the leading authority on Greek cookery.